See on Scoop.it – Bounded Rationality and Beyond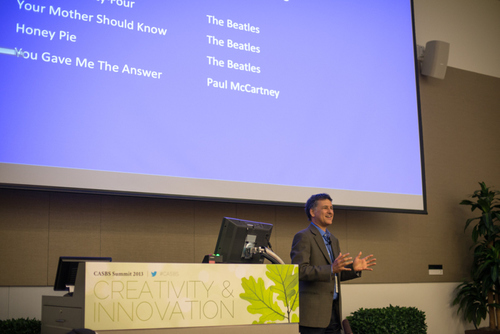 If one were to Google "This Is Your Brain On…"(fill in the blank), they would find everything from drugs, to football, to Jane Austen. This Is Your Brain On Music spent over a year on the New York ..
Nobel laureate Daniel Kahneman (Thinking Fast and Slow) delivered the opening keynote. The recurring theme of the summit proved to be collaboration, integration and originality. Kahneman explains that in order to develop new methodologies and vocabularies to bring to their home institutions and fields, innovators across a wide variety of professions have begun coming together to exchange ideas, and open up a dialogue.
Following the keynote, Daniel Levitin (This Is Your Brain On Music) took the stage. His talk, entitled "Creativity in music: Constraints and innovation" was of particular interest to the creativity gurus in attendance. He began with a simple definition of creativity. "Works of art that we judge to be the most creative involve the artists working under constraints to produce something novel, or something that pushes the edges of these assumed constraints."
See on asthespiritwanes.com