See on Scoop.it – Bounded Rationality and Beyond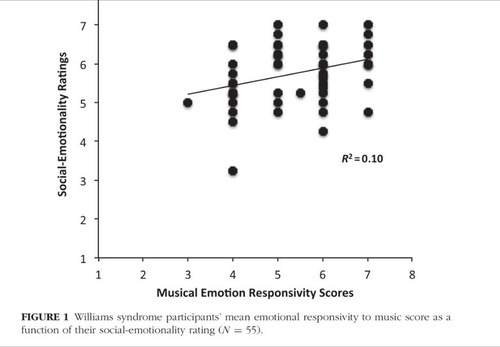 (Ng R, Lai P, Levitin D, Bellugi U)

Williams Syndrome (WS) is a neurogenetic developmental disorder characterized by peaks and valleys of cognitive abilities. One peak that has been understudied is the affinity that many individuals with WS have toward music. It remains unknown whether their high levels of musical interest, skill and expressivity are related to their sociable personality or their verbal intelligence. Authors examined the relationships between musicality (musical interest, creativity and expressivity), sociability (social-emotionality, social approach) and language comprehension in WS and typically developing (TD) controls. Findings suggest that emotion-expressivity through music in WS may be linked to their sensitivity and responsivity to emotions of others, whereas general interest in music may be related to greater linguistic capacity in TD individuals. Musicality and sociability may be more closely related in WS relative than in typical development; implications for future interventions for this neurodevelopmental condition will be discussed.
See on pathwaysinmusic.com