See on Scoop.it – Bounded Rationality and Beyond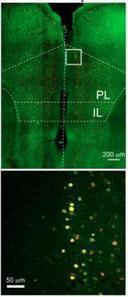 We all deal with stress differently. For many of us, stress is a great motivator, spurring a renewed sense of vigor to solve life's problems. But for others, stress triggers depression. We become overwhelmed, paralyzed by hopelessness and defeat. Up to 20% of us will struggle with depression at some point in life, and researchers are actively working to understand how and why this debilitating mental disease develops.

Today, a team of researchers at Cold Spring Harbor Laboratory (CSHL) led by Associate Professor Bo Li reveals a major insight into the neuronal basis of depression. They have identified the group of neurons in the brain that determines how a mouse responds to stress – whether with resilience or defeat.

For years, scientists have relied on brain imaging to look for neuronal changes during depression. They found that a region of the brain known as the medial prefrontal cortex (mPFC) becomes hyperactive in depressed people. This area of the brain is well known to play a role in the control of emotions and behavior, linking our feelings with our actions. But brain scans aren't able to determine if increased activity in the mPFC causes depression, or if it is simply a byproduct of other neuronal changes.
See on www.medicalnewstoday.com