See on Scoop.it – Bounded Rationality and Beyond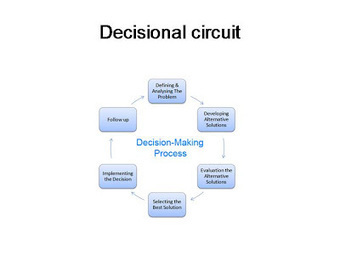 We have seen [here] that the decision making activates a circuit, where the evaluation of the alternative solutions to a given problem and the choice of the best one would give rise to a learning mechanism for error reduction.  Now let's talk about the main components which influence the decision making (see Figure 1). 
We can consider the combination of three factors over the decision making process:
the decision environment;the quantity of information;the decision stream.Figure 1. The components of decision making and the role of the time
Decision making is a process which requires the definition of the informative set (environment) by which select and implement the best solution to a given problem. During the decisional process the quantity of information is cumulated until a certain time (t') beyond which the gathering of more information overload the decision maker. That is, the quantity of the "effective" information does not grow indefinitely, but will decrease from a certain time on. The existence of a time contraint enables the decision maker to get a decision. Decisions may have effect not only at the time when  they have been taken, but also may enter successive decisional processes, i.e., they may feed the decision environment of the same decision maker (or of other decision makers when we consider the social dynamics) in successive times. This flow of information forms the decision stream.