See on Scoop.it – Bounded Rationality and Beyond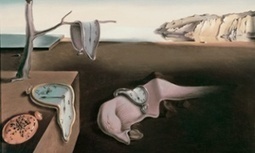 Amy Coats: We, and the world around us, may have a more important role in determining our inner sense of time than we thought. 
Those split second decisions, made almost without thinking. When to put your foot on the pedal when you're at the red light. When to check how those sausages are doing. Remembering to grab your lunch from the fridge seconds before you leave the house. Or – too often – 20 minutes after. And those carefully considered ones. Do I just finish this paragraph before I make a cup of tea? Or do I wait until the boss is clear of the kitchen?
Timing, that is our perception and estimation of time, is key in determining how we behave and in the decisions we make. New findings suggest that time in the brain is relative, not absolute. This means that your brain 'encodes' your sense of time depending on what happens to you, and not by the second, minute or hour. And this in turn determines how you behave.
Alas, you could be forgiven for feeling that the units of time common to everyone worldwide, except perhaps the odd Amazonian tribe, are pretty well ingrained. My partner and I will often make a quick bet on what time it is before we check our phone (all sigh!/rejoice! [delete as appropriate], the dwindling watch-less generation). And we're both pretty good at getting to within 5 or 10 minutes, even if we haven't known the exact time all day. He's normally better at it, perhaps because he's male? Perhaps it tends to fly/drag for me because I'm having more/less fun? Perhaps that's another story.