See on Scoop.it – Brain Tricks: Belief, Bias, and Blindspots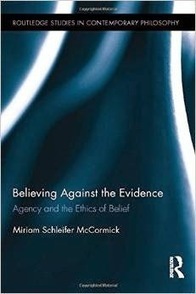 This post is by Miriam McCormick, Associate Professor of Philosophy at the University of Richmond. Miriam presents her new book, Believing Against the Evidence: Agency and the Ethics of Belief (Routledge, 2015).

When I first had a student tell me that she doesn't believe in evolution I was at a loss of how to respond. To me, that sounded like someone telling me that she didn't believe in gravity. It seemed both irrational and wrong. Experiences like this are common; we think that one's actual belief can deviate from how one ought to believe. The dominant view among contemporary philosophers is that any belief formed against the evidence is impermissible. On such a view, which I call "evidentialism," it is easy to diagnosis what is wrong with my student's belief. I use the term "pragmatism" to refer to the view that some non-evidentially based beliefs are permissible. A central aim of this book is to defend pragmatism. One challenge to the pragmatist view I defend is to show how we can distinguish pernicious non-evidentially based beliefs from those that are permissible.
See on imperfectcognitions.blogspot.com