See on Scoop.it – Bounded Rationality and Beyond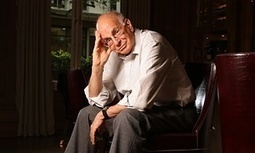 Daniel Kahneman is the very definition of unassuming: a small, softly spoken man in his 80s, his face and manners mild, his demeanour that of a cautious observer rather than someone who calls the shots. We meet in a quiet spot off the lobby of a London hotel. Even then I have trouble catching every word; his accent hovers between French and Israeli and his delivery is quiet, imbued with a slightly strained patience, helpful but cautious.

And yet this is a man whose experimental findings have shifted our understanding of thought on its axis – someone described by Steven Pinker as "the world's most influential living psychologist". With his long-time collaborator Amos Tversky, who died in 1996, he delineated the biases that warp our judgment, from figuring out if we can trust a prospective babysitter to buying and selling shares. In 2002 he was awarded the Nobel prize in economics, a testament to the boundary-busting nature of his research.