See on Scoop.it – Bounded Rationality and Beyond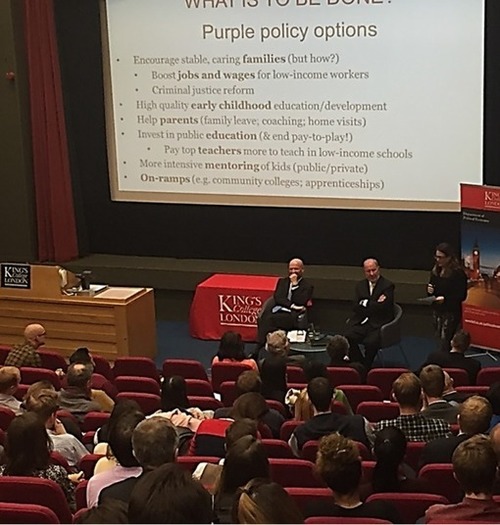 Robert Putnam, Harvard Professor and author of Bowling Alone and several other important works, came in to BIT last week to discuss his new book – Our Kids. His latest work reflects on the growing gulf between the lives and expectancies of the rich and poor youth in today's America. It has already attracted widespread attention in the USA, not least among several of the leading Presidential candidates.
Putnam opens his case by contrasting the greater opportunities available to his grand-daughter with that of the grand-daughter of a lower middle-class schoolmate from his own childhood. Taken alone, it is a shocking contrast. But when situated in his trademark wall of graphs that shows that this example is not a one-off, it is breath-taking.
He shows how the gap has grown across a wide range of measures, not just educational attainment but: time spent with parents; enrichment expenditure; participation in extracurricular; having family dinners together; and even social trust (see last week's blog). For example: while children with parents from all backgrounds spent a similar amount of time with their parents in the 1960s, today more affluent parents (those with degrees) spend 40 minutes a day more with their children than those whose parents are just High School educated. Over a childhood, that's roughly a year of full-time attention difference, leaving aside important qualitative differences such as words spoken and quality of interaction, or degree of focus undistracted by other worries.
See on behaviouralinsights.co.uk