See on Scoop.it – Bounded Rationality and Beyond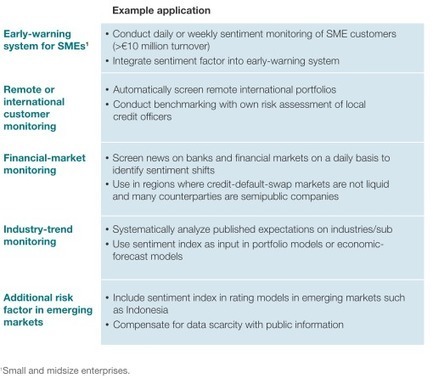 Textual data from analysts' reports to blog posts can help banks enhance their credit-risk models.
Most banks use credit-rating models to help them make decisions about lending to companies. Such models are indeed a requirement for banks using Basel II's internal-ratings-based approach. But these models often have significant shortcomings. First, they are frequently backward-looking. Second, they rely on borrowers' formal financial reporting, which means that data are always at least 6 months old; toward the end of the fiscal year, data are nearly 18 months old. Third, qualitative assessments of borrowers are often simplistic. And finally, many banks rely on their credit-rating models to provide both a current snapshot and a longer-term view, with the result that they do neither well. Textual information can help banks overcome some of these challenges and improve their credit-risk assessment, in particular their approach to qualitative assessment. This information includes professionally produced content such as analysts' reports and business journalism, as well as informal texts such as blogs and posts on social networks. Compared with the financial information available about small and midsize enterprises (SMEs) or corporates, the amount of textual content about companies is immense and provides a wealth of information. News articles describe the latest developments of companies; analysts' reports provide insightful analyses on companies' strategies, competitive positioning, and outlook; product ratings on online-shopping sites provide unfiltered views of customer satisfaction; and microblogs such as Twitter distribute the latest news (and sometimes gossip) with unprecedented speed.